NBA MVP ODDS
With less than only a third of the 2018-2019 NBA regular season left to be played,we will take a look at the future odds for the NBA MVP. Since last week,NBA has not played a single regular season game,but the odds have still changed,with Giannis Antetokounmpo aka Greek Freak having certain edge over James Harden.Let's see the case betting for and against Harden.
Last year,in Mid-December,the race for MVP seemed to be only between likes of Antetokounmpo, LeBron James and Kawhi Leonard.
It was at that time,Rockets were at 12-14 and Harden had scored a praiseworthy 30 points per game.But then came his beast mode,scored 50 points,10 rebounds and 11 assists against Lakers,and he hasn't been slowed down since.Rockets too won 9 in their next 10 games with Harden scoring at a phenomenal rate of 41.5 points per game in his last 31 games,counting that triple double against LA Lakers.
James Harden over his last 12 games:
40.1 points
9.0 assists
6.6 rebounds
64.0 true shooting percentage
Rockets are 11-1, went from the 14-seed to the 4-seed
Legendary run by Harden. Saved Houston's season and making a run at a second MVP. Unbelievable.                                                                                                            — Kevin O'Connor (@KevinOConnorNBA)http://January 4, 2019
These feats separated Harden from the rest of the stars,but came the NBA ALL-STAR game and Giannis came back once back as a much strong contender than previous.He was the leading vote-getter per conference.
Even the most recent future odds from SuperBook at Westgate has the Greek Freak tied with The Beard for top sports
Regular Season MVP (odds current as of Feb. 18, 2019)
James Harden 10/11
Giannis Antetokounmpo 10/11
Paul George 8/1
Stephen Curry 30/1
Joel Embiid 30/1
LeBron James 30/1
Kawhi Leonard 50/1
Kevin Durant  50/1
Manager of SuperBook,Eric Osterman explained the shift in MVP odds for us."We see the MVP race as a pick 'em now, after Giannis' performance in the All-Star Game," Osterman says. "With the perception of what he did on that stage. If he continues to play like that, we can see voters giving him the edge, or at least have him at equal value to Harden."
Now,as it is turning out to be a stiff competition between these two and some others,let's take a look at the case betting for and against Harden's chances to take home the title for a second straight year in a row.
THE CASE AGAINST HARDEN
This historic trend
While Harden's ppg of 36.6 is quite astonishing,but there exists an historical trend in terms of ppg>35 and not winning the MVP.Before this 2018-19 season,only 10 times the players have scored 35 or more points per game over a season,but only 2 of them(Michael Jordan in 1988 and Wilt Chamberlain in 1960)won the MVP.
Team success
It is observed that in the last 35 years,33 players who became MVP were from teams which were seeded 1 or 2 in their conference.Houston right now is placed at fifth in Western Conference,just ahead of Utah and San Antonio in standings.If they finishes with sixth or seventh seed,would people still guess him as a MVP probable?
Other worthy candidates
If there were no other players truly deserving the MVP ,Harden would have an absolute choice for it.But Giannis is proving his skill and presence in all departments.The Greek Freak is averaging 27.2 ppg on 58.1 percent shooting, along with 12.7 rpg, 6 apg and plays excellent defense while leading a surprise team to the top of the NBA standings.
THE CASE FOR HARDEN
Improved defensive play
Harden has come a long way from not being defensive to be one of the defensive pillars of Rockets,but yes don't yet get him compared with Gary Payton. Still,he's third in the league in steals per game with 2.2 this season and has come up with key defensive stops in crucial points of close games of NBA.
Scoring efficiency
Scoring with advanced metrics and having explicit raw numbers is the key to success in NBA and Harden have both and even more aggressive.Harden has a true shooting percentage of 62.2 this season. By comparison in Jordan's two seasons with 35+ ppg his true shooting was 56.2 and 60.3 percent. In Kobe Bryant's 2006 season where he averaged 35.4 ppg his true shooting was 55.9 percent. Harden isn't just scoring an incredible amount of points, he's doing it efficiently.
Supporting Cast
James Harden has not had much help around him like the other MVP candidates namely Kevin Durant,Stephen Curry and Paul George.He came into team owing to the Chris Paul injury.He doesn't have Clint Capela as well to play alongside him.Frankly speaking,Houston would not have been here if it was not for Harden and his insane scoring.
THE VERDICT
Osterman says"What we're thinking is Harden's style of play isn't conducive to what voters think of for an MVP," he adds, "Giannis has the complete game, and that's what voters look at. We weren't taking any bets on Harden at -250, and we were seeing money on Giannis."
The last statement from Osterman says it all about why is there shift in future odds regarding NBA MVP.
We weren't too keen on taking Harden at anywhere near -250 either but at these recent odds things are looking much better for those liking Harden's chances.
While previous legends were snubbed for the MVP award in extremely high-scoring seasons, Harden has been more efficient than all of them.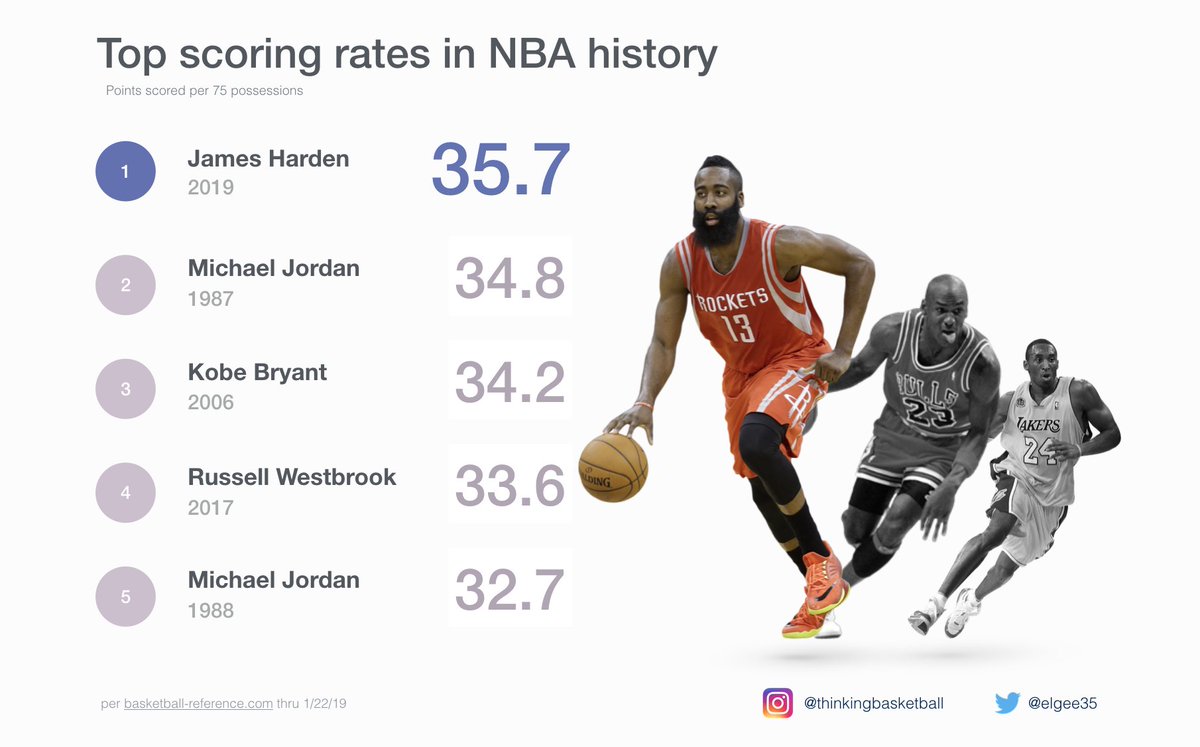 It's now pretty clear that Harden numbers are unmatched and insane.He is the pretty obvious choice for the MVP. But in the recent past,MVP voters have voted in awkward manner like preferring Steve Nash over Kobe Bryant and his 35.4 ppg in 2006.We hope that this time they get it right and vote sensibly,making James"The Beard"Harden MVP for second straight year in a row for his all season stellar performance.
LOOKING TO MAKE SOME FUTURES BETS? CHECK OUT OUR WHERE TO PLAY SECTION